The Ramp v0r8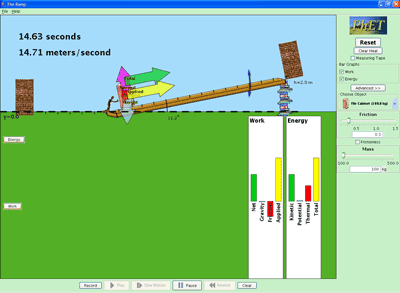 click to launch

<>

New in the Ramp:




>
Color-coordinated work & energy.
Initial work is accounted for.
Better Model:

Wall collisions show up as heat.
Transition from ramp to ground is correct with respect to energies.
5 independent equations constraining works & energies are asserted (not emergent)

Added a button to rezero thermal energy.
Made measuring tape optional (checkbox)
Bugfix: Force arrows now appear on initialization.
Bar graphs:

Labels beneath.
Titled graphs.
Reordered works for symmetr/y.
Work is on the left, Energy on the right.
Selectable from the control panel (checkbox)

When ramp overheats, "Warning: Overheated" appears by the ramp, as well as a reset button.
Hid some features in an Advanced Panel.
X & Y force components are striped (feasibility test).
---
Remaining Features

<>
Graphics>
Add option to graph Parallel Components of forces
checkboxes should allow user to show any combination of energy (on graphs)
Show all grab bag choices at once? (on intro panel.)
Set initial conditions.

Old idea: Set object at top of ramp and have it stay while you get ready to release.

A hook?
Set infinite friction?

Water splash to cool off on reset thermal energy button.
Coordinate views (of force arrows) should look different.

Try sparse stripes in the direction of the unit vector.

FBD inside advanced panel?
Some other object (not a brick wall) at the top of the ramp.
Add vertical & horizontal axes to bar graphs.
Set initial conditions:
1. Angle, Position, Applied force text boxes on left hand side.

2. Go/Pause/Clear next to the slider (not the energy or work graphs).

<>
Tabs>
Tab 1: No graphs

Show all grab bag choices on the control panel.

Tab 2: Graphs

Advanced features

Advanced Graphs
Coordinate Frames
FBD
Friction Control
<>Misc>
Wiggle me on the ramp.
Wiggle me for applied force.
Test at lower resolution.
Audio (for crashes & splashes)
Performance Enhancement.
Improve screen layout.
Start the block at zero.
<>
Bugs:>
Arrows (and labels) should be offset (non-overlapping).

Especially problematic for small force arrows.

Arrow text label centering fails for arrows at angles.
100% processor while just sitting (graphs visible)
Zoom on charts doesn't work.
Simulation should stop at 20 seconds.
Graphs don't clear after GoPauseReset reset button pressed.
Clear doesn't clear the bar graphs.
Reset has no warning box.
Play should not be selectable until the user has stopped taking data
(pushed pause in go pause reset).
Applying a force across the surface boundary should recompute the force arrow (it shows up at the wrong (same old) angle).

The object 'sticks' at the boundary between ramp & ground, causing discontinuity in velocity.

Minor bugs in playback (man position, etc.)
Questions:
Rename or coname Applied Force to Push or Man or Applied (push) or something like that.

I don't think students will easily make the connection between applied and the push.
The Total energy bar should be multicolored showing the addition of all other energy as with the springs and masses bar graphs.

I would not suggest this feature for Net Work because of the negative work done by friction.

VS. Both Applied Work and Total energy having the same (solid) color.
Add a Work done by Normal Force bar (even though it's always zero)?
Is the striped component view worth pursuing?