Index of /physics/phet/dev/force1d/v1r5
 Name                    Last modified       Size  Description


---


 Parent Directory        17-Jan-2005 19:28      -  
 force1d.jar             17-Jan-2005 19:26   440k  
 force1d.jnlp            17-Jan-2005 19:28     1k  
 lib/                    17-Jan-2005 19:29      -  

---
Apache/1.3.26 Server at www.colorado.edu Port 80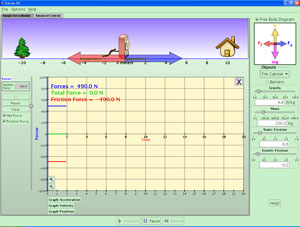 Click to launch.
Known Bugs (in order of severity):
Sometimes at a barrier, net force is nonzero in the direction of the brick wall.

Should we add a 'Wall Force'?

Recording motion, then pausing and rewinding causes an incorrect artifact in the force arrows. (and actual model).

Sometimes a heavy object slowing down will make the force arrows (and forces) flicker back and forth before coming to rest.

Not all controls fit on the screen for 1076x900 screen resolution. Workaround is to use scrollbars to see them all.

Turning on Net and other friction checkbox on the left while Force graph is suppressed has the wrong behavior.

Too much CPU usage (wrong rectangles getting painted?)

Wrong title in jnlp.

Refrigerator too heavy for nomal tasks.

All text is drooping, don't know why it is offset from expected location.

(Could be registration point code?)

When a PhetGraphic becomes invisible, it should lose mouse focus and key focus.
ToDo
Cursor should be disabled on record.
Reduce CPU usage.